Glossary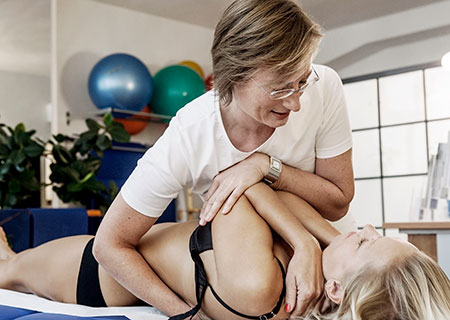 Slipped disc
... is a a mostly distinct pain process that can be accompanied by neck, back or lower back pain and is typically characterized by sensory disturbances and / or muscle weakness up to paralysis in the arms or legs.
Headache
... is pain that can have a wide variety of causes: neurological, vascular and orthopedic (e.g. muscular tension, joint blockages or instabilities, especially in the cervical spine).
Conservative Orthopaedics
... is Orthopedics, which primarily uses non-surgical treatment methods.
Manual Medicine
... isa medical method used to diagnose joints, spine, muscles, tendons, ligaments and connective tissue structures and to treat their functional disorders with the hand.
Musculoskeletal disorders make up an unexpectedly large part of the spectrum of complaints of our time. Only 15% of the underlying causes can be seen on the X-ray. Manual medicine can help here.
It is the logical complement and deepening of the classic orthopedic treatment; further development through reflection on the basis, namely that of the exact anatomy with a focus on the soft parts, especially tendons, ligaments and muscles and the simplest, often most effective instrument of a doctor: his hands. The combination of both in diagnosis and therapy can even alleviate protracted orthopedic problems and cure some of them.
Orthopaedics
... is a special field of medicine that deals with the development, prevention and treatment of congenital and acquired disorders and anomalies in the form or function of the musculoskeletal system.